Identifying Business / Industry Needs for Resilience Planning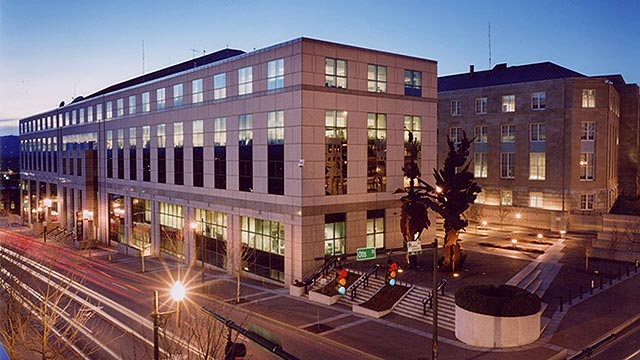 About Us
Under the leadership of Dr. Otis Brown, the Executive Forum on Business and Climate is an inovative program of CICS-NC established to achieve NOAA's goal to "understand and describe climate variability and change to enhance society's ability to plan and respond." As a NOAA partner, CICS-NC aims to provide decision makers with an improved understanding of the global climate system and to "translate" this information so the public can incorporate the information and products into their decisions. The Executive Forum on Business and Climate is one of many engagement activities and a way to achieve this goal.
The Forum will focus on a variety of climate-related themes, including adaptation, mitigation, forecasting, impacts and socio-economic management of the consequences of a changing climate. It is envisioned to be an annual event held in Asheville, North Carolina. Through the training and knowledge obtained at the Forum, participants will be able to close the gap between climate science and decision making, looking into short, medium, and long-term feasible adaptation actions.
The broader vision and goals of the Forum are to:
Establish an on-going collaborative networking forum to address the critical questions surrounding 'adaptation' to climate change
Develop comprehensive, interdisciplinary and cross-sector strategies to capitalize on opportunities to respond to the impacts of climate change
Promote a climate-resilient and climate-literate society that is able to make informed decisions, using the latest information, to maximize social, economic and environmental benefits
About CICS-NC
The Cooperative Institute for Climate and Satellites (CICS) is one of 18 cooperative research institutes of the National Oceanic and Atmospheric Administration (NOAA). CICS-NC is formed through a consortium of academic, non-profit and community organizations with leadership from the University of Maryland, College Park (UMCP) and North Carolina State University (NCSU) on behalf of the University of North Carolina (UNC) System.
Read more about other NOAA Cooperative Institutes.
About NOAA
The National Oceanic and Atmospheric Administration (NOAA) is a scientific agency focused on the conditions of the oceans and the atmosphere. NOAA warns of dangerous weather, charts seas and skies, guides the use and protection of ocean and coastal resources, and conducts research to improve understanding and stewardship of the environment. From daily weather forecasts, severe storm warnings and climate monitoring to fisheries management, coastal restoration and supporting marine commerce, NOAA's products and services support economic vitality and affect more than one-third of America's gross domestic product. NOAA's dedicated scientists use cutting-edge research and high-tech instrumentation to provide citizens, planners, emergency managers and other decision makers with reliable information they need when they need it. Individuals and decision-makers across widely diverse sectors from agriculture to energy to transportation are increasingly asking NOAA for information about climate change in order to make the best choices for their families, communities and businesses.
As climate knows no boundaries, NOAA works closely with scientists and researchers world-wide to develop both national and global data sets that have been used by both government and the private sector to maximize the resource provided by our climate and minimize the risks of climate variability and weather extremes. (http://www.ncdc.noaa.gov/climate-monitoring/index.php)
About NOAA's NCEI
NOAA's National Centers for Environmental Information (NCEI) in Asheville, North Carolina maintains the world's largest climate data archive and provides climatological services and data to every sector of the United States economy and to users worldwide. Records in the archive range from paleoclimatic data to centuries-old journals to data less than an hour old. The Center's mission is to preserve these data and make them available to the public, business, industry, government, and researchers.
NCEI develops national and global datasets, which are used to maximize the use of our climatic and natural resources while also minimizing the risks caused by climate variability and weather extremes. NCEI has a statutory mission to describe the climate of the United States and it acts as the "Nation's Scorekeeper" regarding the trends and anomalies of weather and climate. NCEI's climate data have been used in a variety of applications including agriculture, air quality, construction, education, energy, engineering, forestry, health, insurance, landscape design, livestock management, manufacturing, national security, recreation and tourism, retailing, transportation, and water resources management.