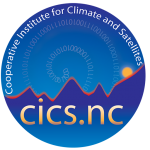 From 2009–2020, NCICS hosted the North Carolina location of the NOAA Cooperative Institute for Climate and Satellites (CICS-NC) focused on satellite an in situ climate data research and development activities. CICS-NC was superseded by the Cooperative Institute for Satellite and Earth System Studies (CISESS), which began operations in 2019, with NCICS again serving as the host for the North Carolina location.
Vision, Mission, and Accomplishments
CICS-NC's multidisciplinary team of experts collaborated in climate and satellite research to support the "research to operations" strategy of the National Oceanic and Atmospheric Administration's National Centers for Environmental Information (NOAA NCEI). Our work was guided and organized around the vision, mission, and focus areas listed below.
To learn more about CICS-NC's wide-ranging research, outreach, and engagement activities, click on CICS-NC or search this site on "CICS-NC."
CICS-NC Vision
CICS-NC inspires cutting-edge research and collaboration
CICS-NC advances NOAA's mission to understand and communicate the current and future state of the climate
CICS-NC engages with business, industry, academia, and the public to enhance decision-making
CICS-NC Mission
Promote collaborative research into the use of in situ and remotely sensed observations in Earth system research and applications, led by NOAA's National Centers for Environmental Information
Innovate new products and methods to understand the state and evolution of the full Earth system
Facilitate regional economic development through its engagement activities
Prepare the next generation of the workforce needed to address climate science and its applications
Engage with corporate leaders to develop a climate-literate society
Focus Areas
Access and Services Development — Improving access to and utility of climate data products for users
Climate Assessments — Supporting interagency activities for national and regional assessments of climate change
Climate Data Records and Scientific Data Stewardship — Providing high-quality satellite and in situ observing datasets that document the Earth's climate
Climate Literacy, Outreach, Engagement, and Communications — Advancing the public's knowledge and understanding of climate information and climate change, including climate impacts and opportunities for adaptation and mitigation
Surface Observing Networks — Sustaining and improving climate in situ observations and observing networks
Workforce Development — Training the next generation of skilled climate scientists
Consortium Projects — Augmenting CICS-NC capabilities through CICS consortium member partnerships
These focus areas were supported by the different divisions in NCEI; NOAA Line Offices such as the National Environmental Satellite, Data and Information Service (NESDIS), Oceanic and Atmospheric Research (OAR), and the National Weather Service (NWS); the US Global Change Research Program (USGCRP), and North Carolina State University.
Selected Significant Achievements
Algorithm development and calibration/validation efforts
Geostationary surface albedo (GSA) algorithm (being used as US contribution to international effort to produce joint climate record; Lattanzio et al. 2013); new technique to estimate net solar radiation from geostationary (GEO) satellites (Inamdar and Guillevic 2015).
Improvements to the quality and usability of US Climate Reference Network (USCRN) soil moisture measurements (https://www.ncdc.noaa.gov/crn/; e.g., Leeper 2017).
Calibration of the visual channel of the International Satellite Cloud Climatology Project (ISCCP) B1 data (Inamdar and Knapp 2015).
New applications/products development
Initial data stewardship maturity matrix (DSMM) for long-term stewardship of NOAA data products (Peng et al. 2015).
New approaches to uncertainty quantification for observational datasets; novel statistical approach for fusing multiple platform/instrument observations (Smith and Matthews 2015).
Version 4 of NOAA's Global Historical Climatology Network monthly temperature dataset (GHCNm; Menne et al. 2018), which aligns GHCNm temperature values with GHCN-D daily data and expands global coverage (Rennie et al. 2014).
Increased data accessibility/utility
Obs4MIPs – making observational products more accessible for climate model intercomparisons (https://ncics.org/data/obs4mips/).
NOAA Big Data Project support, transferring and certifying multiple datasets to NOAA partner cloud providers, including near-real-time transfer of 300Gb/day of GOES-16 satellite (ncics.org/data/noaa-big-data-project; Ansari et al. 2017).
Data Stewardship Maturity Matrix (DSMM) – making more than 800 individual NCEI datasets discoverable, with metadata for many incorporated into NOAA OneStop (e.g., Peng et al. 2016).
National Climate Assessment
The Technical Support Unit (TSU) produced regional climate trends and scenarios reports (e.g., Kunkel et al. 2013) and state climate summaries for 50 states plus Puerto Rico (Kunkel et al. 2017; Runkle et al. 2018) and supported the Third National Climate Assessment (NCA3; including its ground-breaking interactive web version; Melillo et al. 2014), a report on climate change and human health (Crimmins et al. 2016), and Volumes I and II of the Fourth National Climate Assessment (Reidmiller et al. 2018; Wuebbles et al. 2017).
North Carolina Climate Science Report
NCICS led the development and release of the North Carolina Climate Science Report, leveraging both the expertise and experience of the assessments TSU and partnerships with academic institutions across the state to produce a comprehensive assessment of observed and project climate change in North Carolina. https://ncics.org/programs/nccsr/
Education, outreach and engagement
Created information/discussion exchange venues bringing together industry decision makers, academic researchers, and federal data experts (e.g., Executive Forum for Business and Climate and Dataset Discovery Days).
Targeted outreach efforts with local schools and other STEM organizations (e.g., science museum, science festivals, STEM high schools, etc.).
Established annual CICS summer intern initiative, a mentoring program for undergraduate students to work on NOAA-related research.
Other initiatives
CICS Annual Reports to NOAA