Hosted by North Carolina State University, the Cooperative Institute for Climate and Satellites—North Carolina (CICS-NC) is a unique center of excellence showcasing a partnership between universities, the private sector, non-profit organizations, community groups, and the federal government.
CICS-NC is a multidisciplinary team of experts who collaborate in climate and satellite research to support the "research to operations" strategy of the National Oceanic and Atmospheric Administration's National Centers for Environmental Information (NOAA NCEI).
Our Vision
CICS-NC inspires cutting-edge research and collaboration
CICS-NC advances NOAA's mission to understand and communicate the current and future state of the climate
CICS-NC engages with business, industry, academia, and the public to enhance decision-making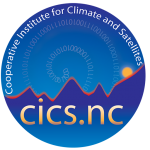 Our Mission
Promote collaborative research into the use of in situ and remotely sensed observations in Earth system research and applications, led by NOAA's National Centers for Environmental Information
Innovate new products and methods to understand the state and evolution of the full Earth system
Facilitate regional economic development through its engagement activities
Prepare the next generation of the workforce needed to address climate science and its applications
Engage with corporate leaders to develop a climate-literate society
Focus Areas
Access and Services Development — Improving access to and utility of climate data products for users
Climate Assessments — Supporting interagency activities for national and regional assessments of climate change
Climate Data Records and Scientific Data Stewardship — Providing high-quality satellite and in situ observing datasets that document the Earth's climate
Climate Literacy, Outreach, Engagement, and Communications — Advancing the public's knowledge and understanding of climate information and climate change, including climate impacts and opportunities for adaptation and mitigation
Surface Observing Networks — Sustaining and improving climate in situ observations and observing networks
Workforce Development — Training the next generation of skilled climate scientists
Consortium Projects — Augmenting CICS-NC capabilities through CICS consortium member partnerships
These streams are supported by the different divisions in NCEI, NOAA Line Offices such as the National Environmental Satellite, Data and Information Service (NESDIS), Oceanic and Atmospheric Research (OAR), and the National Weather Service (NWS), the US Global Change Research Program (USGCRP), and North Carolina State University. CICS-NC is structured thematically by these streams.
Background
In 2009, The Cooperative Institute for Climate and Satellites (CICS) was formed through a national consortium of academic, non-profit and community organizations, with leadership from the University of Maryland College Park (UMCP) and North Carolina State University with principal locations in College Park, Maryland and Asheville, North Carolina. CICS is administered as part of the NOAA/NESDIS/STAR Cooperative Research Program Institutes which is the first experiment by NOAA and academic institutions to engage a geographically dispersed, diverse set of more than 20 partner institutions across the United States to address environmental change, their prediction, and potential impacts. CICS-NC is an Inter-Institutional Research Center with the UNC System, as an activity of the North Carolina Institute for Climate Studies. CICS-NC is co-located with NOAA's National Centers for Environmental Information in Asheville, NC. CICS's cooperative agreement was renewed for an additional five years in 2014.