Spring Trends 2017
We invite you to check out the latest issue of Trends, our Institute newsletter. In addition to an update from our Director, Otis Brown, this issue looks back at other major accomplishments from the past year, including our recent climate downscaling workshop in India, the release of the NOAA State Climate Summaries, and our educational outreach efforts.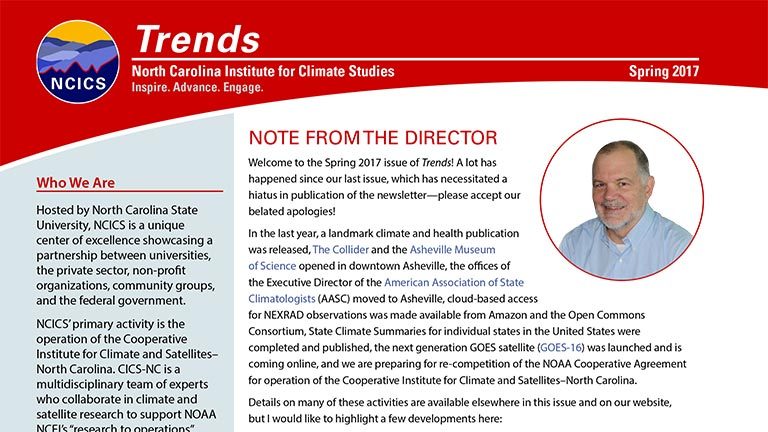 Please join us and our colleagues from NOAA NCEI at the 2017 Mountain Science Expo this Saturday, April 8, at the North Carolina Arboretum. See..
NOAA National Centers for Environmental Information - Climate Join us and the Cooperative Institute for Climate and Satellites (CICS-NC) for the 2017 Mountain Science Expo on Saturday, April 8, at The North Carolina Arboretum to explore the connections between nature, art, and science.
Jared Rennie goes "Beyond the Data" on NOAA Climate.Gov, writing about new tools he's developed for viewing daily temperature and precipitation..
What Does 2017 Look Like in Your Neck of the Woods? | NOAA Climate.gov climate.gov A new analysis allows non-experts to view 2016 and year-to-date climate data for thousands of U.S. locations.