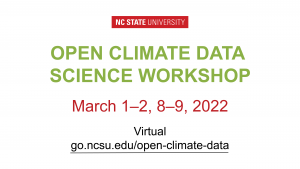 Interested in using data to help address climate challenges in North Carolina? If so, please join us at the virtual Open Climate Data Science Workshop in March. This free workshop aims to facilitate collaborations between communities, organizations, and scientists and to build capacity for using publicly available weather and climate data, reproducible science practices, and local knowledge.
With a focus on Open Data and Open Science practices, the workshop will connect NC State University researchers with communities and stakeholders across the state, building trust in data-driven approaches for addressing climate change and fostering collaboration for climate change resilience projects in North Carolina.
For more information and to register, please visit the workshop website at http://go.ncsu.edu/open-climate-data. Attendees must register by January 21, 2022.
The Open Climate Data Science Workshop is co-organized by staff from NCICS, the State Climate Office of North Carolina, the Southeast Climate Adaptation Science Center, and North Carolina State University Libraries. The workshop is supported by NC State's Data Science Academy.