As a part of NC State University, reaching out to the academic community is important to North Carolina Institute for Climate Studies staff members. Educational outreach is a significant component of our mission, with members of our outreach team actively involved in supporting climate literacy for K-12 students as well as others in our local and regional community. Whether working with students in the classroom or reaching out to the community at large, our staff are available to provide climate and data information and resources on a variety of levels. To this end, NCICS staff participate in a number of small- and large-scale events throughout the year.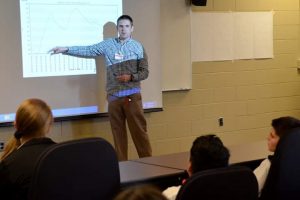 Some of our past event participation includes: ​
Mountain Science Expo
Western Regional Science Fair
Isothermal Community College Science and Technology Expo
Schiele Museum "Weather Proof!" event
World View Global Education Summit
Resources for Educators
Are you looking for classroom or homeschool activities and ideas for teaching and learning about weather, climate, or data science? The outreach team at NCICS has compiled a list of STEM Resources, including links to a wide range of websites which foster learning of weather, climate, and data information.
Contact Information
While we love to engage with our community, our numbers are small, and our activities many. Each outreach request is thoughtfully considered and scheduled or declined based on distance, staff availability, and current workload. For general information on NCICS outreach activities, contact our outreach team via email: outreach@ncics.org. To inquire about staff availability for a particular event, please provide us with information via this form. Thank you!
Upcoming Events
Meet us at…
Be sure to check back later for upcoming events!