Frost and Freeze Data
and Impacts to the
Agriculture, Construction and
Transportation Industry
---
INTRODUCTION
NOAA's National Centers for Environmental Information (NCEI) and the Cooperative Institute for Climate and Satellites — North Carolina (CICS-NC), are pleased to host a users workshop and discussion focused on frost and freeze data to be held at NCEI in Asheville, North Carolina. This workshop is one of a series of user workshops called Dataset Discovery Days.
BACKGROUND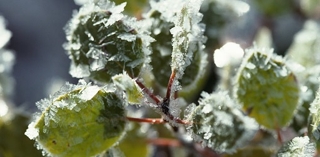 Freezing temperatures often adversely affect commercial and industrial operations, especially those with principal activities in an outside environment. One of the most significant hazards of freeze conditions are in the agricultural industry where late spring freezes, early fall freezes, and changes in the growing seasons can seriously impact plant production and crop volume. Freeze and frost information is useful in assessing the risk of operations, where the risk of crop production associated with planting dates, the length of the growing season, and potential destruction of immature and/or tender vegetation. All of these can be a key factor in a farm management strategy.
Similar risk management concerns occur in other commercial and industrial operations with regards to scheduling, in order to optimize productivity during certain temperature conditions. Other businesses that rely on frost and freeze data trends are highway construction, waterworks projects, inland waterway shipping, large-scale construction and transportation.
Observations are showing a shift in the freeze dates and in the growing season duration, particularly in a changing climatic condition. Plants are more susceptible to late season freeze events and crop varieties may need to change to adapt. Shifts in freeze dates also impact the construction and transportation industry.
Examination of historical climate records can help decision makers determine the best time to plant a crop and what variety to plant. In 2011, NOAA released the 1981–2010 Climate Normals which include supplemental normals such as frost-freeze date probabilities, probabilities of frost-freeze occurrence, and growing season length normals. Climate Normals are the latest three-decade averages of climatological variables, including temperature and precipitation.
This workshop discussion focuses on frost and freeze data, along with relevant information that is useful to the industries that are the most vulnerable and susceptible to changes in freezing conditions. The workshop objectives are to:
Discuss updates and trends of frost and freeze data
Assess current and future uses and applications of frost and freeze data
Increase understanding of users' needs for frost and freeze dataset and other climate information and assess the science potential for meeting these needs
Continue to engage with industry, academia, and solution providers interested in managing their risks, particularly with respect to climate adaptation
NCEI WORKSHOP SERIES ON CLIMATE DATA
"Dataset Discovery Day" is a two-day workshop interaction focused on informing users of NCEI data and information of sector-specific needs in climate information. As part of the workshop, participants will engage with specific sectors that use climate and environmental information and explore potential future research needs. The workshop will bring together business leaders, decision-makers, entrepreneurs, innovators, and scientists to discuss NCEI's climate data, applications of the data, and future uses of climate information. Through this collaborative discussion, we hope to uncover innovative opportunities for the market and research needs that can be provided to the scientific and academic community.
WORKSHOP DATES
Workshop dates: March 20th – 21st, 2013.
PROGRAM AND REGISTRATION INFORMATION
For agenda information, registration for the workshop or the WebEx, please visit our website: www.cicsnc.org/events/ddd.
Webex participation is available at no cost. Registration for the WebEx is limited to first 25 people that register.
If you are interested in presenting, please contact Jenny Dissen: jennydissen@ncics.org.
The workshop will take place at NCEI, located in downtown Asheville, North Carolina.
National Centers for Environmental Information
Veach-Baley Federal Building
151 Patton Avenue (at the intersection of Patton Avenue and Otis Street)
Asheville, NC 28801
For more information on NCEI and its sectoral engagement activities, please visit the website: http://www.ncdc.noaa.gov/sectoral-regional.
QUESTIONS / COMMENTS
Please contact either Tamara Houston or Jenny Dissen.
Tamara Houston
Sectoral Engagement Coordinator
NOAA's National Centers for Environmental Information
tamara.houston@noaa.gov
828 271 4266
Jenny Dissen
Director of Literacy and Outreach
NOAA's Cooperative Institute for Climate and Satellites – NC
jennydissen@ncics.org
828 257 3135
OTHER WORKSHOPS
Storm and Severe Weather Data: November 28 – 29th, 2012
Agenda
Satellite Data and Applications: June 2013