Workshop on Development and Applications of Downscaling Climate Projections
CICS-NC partnered with the Indian Institute of Tropical Meteorology (IITM) and the Centre for Climate Change Research, both under the Ministry of Earth Sciences, and with NOAA's National Centers for Environmental Information (NCEI) to convene a workshop on applications of downscaled climate projections. The event, which took place March 7–9 at IITM in Pune, India, was part of the ongoing U.S.-India Partnership for Climate Resilience, one of the initiatives of the U.S.–India Joint Working Group on Combating Climate Change.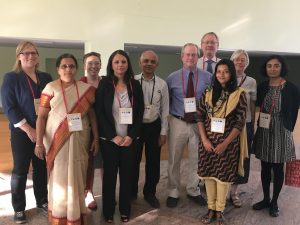 Jenny Dissen and Ken Kunkel of CICS-NC and David Easterling of NOAA NCEI led the U.S. delegation, which also included Dr. Anne Stone and Dr. Ranjini Swaminathan of Texas Tech University, Lauretta Burke from the World Resources Institute (WRI), and John Balbus from the U.S. National Institutes of Health (NIH). IITM downscaling experts attending included Dr. Kulkarni, Dr. Krishnan, Dr. R. Sanjay, and many others. 
The workshop discussion involved more than 60 participants, including representatives from Indian universities; State Action Plan Development groups from various Indian states; private sector companies, including Acclimatise and Skymet—India's largest meteorological company; and several non-governmental organizations working on adaptation and resilience.
This workshop included sessions on:
the theory and methods of climate model downscaling
explorations of specific downscaled data sets—including the World Climate Research Program's CORDEX data on South Asia and the NASA Earth Exchange (NEX) dataset
experience in downscaled projections for hydrologic applications
hands-on activities using downscaled data
applications for various sectors
developing state action plans
Through partnerships with Indian NGOs, the WRI Partnership for Resilience and Preparedness, The Energy and Resources Institute, and NIH, the event also examined case studies on the use of downscaled climate data for decision making in a range of sectors, including human health, agriculture, and water resources management.
See the Agenda and Resources page for the event agenda, which includes links to PowerPoint presentations, videos, and workshop exercises from the event.  
More information about this event are available at: http://cccr.tropmet.res.in/home/workshop/indo-us2017/index.jsp
Photos on this page were taken during the first day of the event. More photos are available at: http://www.tropmet.res.in/gallery.php?gallery_id=51
The Times of India also published a story on the conference.