NCICS to Host NOAA Cooperative Institute
NCICS will host the Asheville location of the new Cooperative Institute for Satellite Earth System Studies, which will be dedicated to expanding our understanding of the full Earth system and its interactions with human activities
May 31, 2019: For Immediate Release
Asheville, NC — NOAA announced today that North Carolina State University's North Carolina Institute for Climate Studies (NCICS) will host an anchor location of the Cooperative Institute for Satellite Earth System Studies (CISESS). The $175-million, five-year agreement will fund a multi-institution consortium led by the University of Maryland (UMD) and NC State University (NCSU). CISESS will begin operations on July 1, 2019, and will expand on the success of the Cooperative Institute for Climate and Satellites, founded in 2009 under a similar partnership between NC State and the University of Maryland.
The grand scientific challenge of CISESS will be to enhance our understanding of how the natural components of the Earth system—atmosphere, ocean, land, and biosphere—interact with human activities as a coupled system. The Institute's multidisciplinary team of scientists and experts will engage in collaborative and transformative research activities to enhance NOAA's ability to use observations and models to meet that challenge, advance NOAA's science mission, and identify emerging science needs.
CISESS will also educate and train students and scientists in relevant fields, provide early-career scientists with opportunities to do important research at a world-class environmental data facility, and actively engage with the scientific community, decision makers, and the public.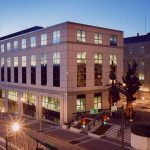 The North Carolina site will be co-located with NOAA's National Centers for Environmental Information (NCEI) in Asheville, North Carolina, while the Maryland site will be hosted at the University of Maryland's M Square Research Park in College Park, which is also home to NOAA's Center for Weather and Climate Prediction.
CISESS will be led by the project principal investigators: UMD Professor Fernando Miralles-Wilhelm will be executive director, UMD Research Professor E. Hugo Berbery will serve as deputy director, and NCSU Research Professor Otis Brown will be director of the CISESS unit in Asheville.
Dr. Brown is the founding director of NCICS and a faculty member in the Department of Marine, Earth, and Atmospheric Sciences at NC State University. He is also a Fellow of the American Meteorological Society and the American Association for the Advancement of Science. In addition to extensive research experience in remote sensing and interdisciplinary studies of climate change and severe weather impacts, his current interests include strategies to address the science/policy interface and societal adaptation to environmental change.
The seamless transition from CICS to CISESS will ensure that NCICS continues to serve as a source of innovation and expertise in support of NCEI activities and broader NOAA mission goals. Dr. Brown noted that "NC State has developed a group in Asheville over the last decade that provides expertise to NOAA in climate observations and approaches to developing resilience to climate change. We are pleased to be selected to continue our work with NOAA / NCEI to help our country address climate change."
As an Inter-Institutional Research Center of the University of North Carolina System, NCICS will also continue as a catalyst for innovation at NC State University and across the UNC system and as an important hub for an expanding range of climate- and weather-related activities in the Asheville area.
"NCICS is one of our top centers, and its selection as the host of CISESS is indicative of NCICS's accomplishments during its first 10 years. We are looking forward to continued successful collaboration with NOAA," said Dr. Mladen Vouk, North Carolina State University vice chancellor of research.
CISESS will support a variety of NOAA activities with a focus on transitioning science and data from research into operational applications that produce societal benefits, training the next generation of researchers and data scientists, and advancing climate literacy. Activities will include NOAA's Big Data Project, the climate data records program, Earth system monitoring (satellite observing systems and surface observing networks) and modeling, climate assessments, engagement and climate literacy activities, data stewardship, and climate science research.
In addition to UMD and NCSU, the Cooperative Institute consortium includes the entire University of North Carolina System (17 campuses, including NCSU); the University of Maryland, Baltimore County; the University of Alabama; the University of Alabama in Huntsville; the City University of New York; George Mason University; Oregon State University; Howard University; the University of Michigan; the University of South Carolina; the University of Georgia; the University of California, Irvine; South Dakota State University; Florida International University; and the University of Nebraska Medical Center (UNMC) as academic partners. Nonacademic members are the Pacific Northwest National Laboratory, the University Corporation for Atmospheric Research, The Nature Conservancy, and the Research Triangle Institute.
Media Contact

Tom Maycock Science Public Information Officer NC State's North Carolina Institute for Climate Studies tmaycock@ncics.org 828-271-4272